Welcome to InfinitiQ50.net
InfinitiQ50.net is an owner's support site for the 2014 and later Infiniti Q50 sedan.



Latest Articles




Infiniti Black S Prototype

The Infiniti "Black S" designation represents the highest level of performance, dynamic capability, effective aerodynamics and intelligent energy management offered by INFINITI.





2019 Model Year Changes

This article is a brief model-by-model overview of what's new for INFINITI's 2019 lineup





Stainless Steel Brake Lines

Installation How-To: Tunerzstore.com Stainless Steel braided brake lines are installed onto a 2014 Q50 Sport. Lines should work for all years Infiniti Q50 with sport brakes





Measuring Wheel Offsets

This How-To is an easy way to calculate the offset value of wheels.





2016 Infiniti Q50 Sports Sedan

Infiniti provides review of the new 2016 Q50 Sports Sedan which include, among many changes, new V6 Twin Turbo options and a new Dynamic Digital Suspension.





New Motor Options for 2016

Infiniti announces motor options for the 2016 Q50 including new VR-based 3.0 liter twin turbo which provide either 300 or 400hp.





Infiniti Sport Muffler Kit

Infiniti is now offering a new Sport Muffler Kit for all models of its Q50. This system enhances the driving experience by improving the aural notes of the sports sedan, while simultaneously reducing its overall weight by almost nine pounds.





Infiniti Direct Adaptive Steering

Direct Adaptive Steering (DAS) is the world's first production steer-by-wire system, providing new levels of control, precision and adaptability





Infiniti Models for 2015

Overview of 2015 Infiniti model year changes. For the Q50 entering its second year the only change is a new Performance Wheel package with 19-inch RAYS superlight forged aluminum-alloy wheels, 245/40R19 front / 265/35R19 rear summer tires.





Infiniti at Goodwood

From the Infiniti Q50 Eau Rouge powering up the Goodwood Hill to the latest models for visitors to enjoy, plus guest appearances by some very special VIPs, Infiniti's presence at this year's Goodwood Festival of Speed over the weekend was a resounding success.





Edmunds

Infiniti announced today that Edmunds.com has named the 2014 Infiniti Q50 among its "Top Rated Vehicles."





Shortlist for 2014 World Car of the Year

Infiniti's new sports sedan, the all-new Q50, is one of the finalists for the 2014 World Car of the Year ("WCOTY") award





Q50 Eau Rouge Concept

The Infiniti Q50 Eau Rouge features bespoke carbon fibre bodywork, Formula One-inspired aerodynamics, a premium cockpit and a powerfully hunkered stance.




Q50 Articles
Infiniti Q50 Specs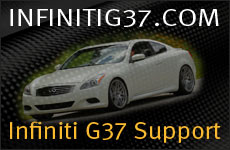 Infiniti G37 Reviews