Measuring offset
Wheel manufacturers often do not post offsets on their wheels which can be a challenge when trying to determine fitment. This How-To will walk you through determining what the offset values are.
---



Click for larger

The Stuff. You will need at least one ruler/tape measurer, a flat edge, and something to protect the face of the wheel. In my case I used two metal rulers and a towel.

The steps are to determine the center point of the wheel, the distance from hub to back of wheel and then to subtract to determine positive or negative offset. Conversion from Standard to Metric is needed if using a Standard ruler.

---




Click for larger

Step 1. Place the wheel face down onto the protected surface.

---




Click for larger

Step 2. Lay the flat edge (I used a second ruler) across the back of the wheel and use the ruler/tape measurer to determine the distance from the floor to the ruler.

It does not matter whether the flat edge is on the tire or the wheel. In this example the distance measured was 11 5/8" (11.625 or 295.275mm) depth

---




Click for larger

Step 3. Do the second measurement from the back of the center hub to the flat edge. In this example the distance measured was 7 3/8" (7.375 or 187.325mm)

---
Step 3. Time for final calculations. Steps 1 and 2 give you the following:



Wheel Width: 11.625 (295.275mm)
Hub to Back: 7.375 (187.325mm)



The two steps remaining are to find the wheels Center Point and then subtract Hub to Back measurements. Since we are looking for offset in mm we will use the above mm numbers.

First, the center point of the wheel must be found. You do this by taking the first measurement in step and dividing by 2. Total wheel width was measured at 295.275mm, thus, Center Point is 147.6375mm. Take the Hub to Back measurement and subtract the Center Point; a positive number is a positive offset and negative is negative. See calculation below: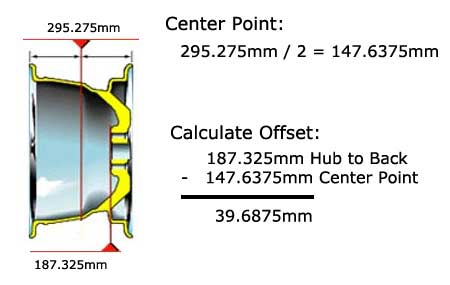 Based on calculations this wheel has a +40mm offset.