The 2019 Infiniti Q50 Sedan
After receiving significant updates for the 2018 model year, including a refreshed exterior and interior appearance, the popular INFINITI Q50 sports sedan enters 2019 with a streamlined model lineup and the addition of standard Forward Emergency Braking and Predictive Forward Collision Warning. As in previous years, Q50 continues to offer innovative technologies designed to empower and support the driver.
The 2019 INFINITI Q50 2.0t is now offered in just two models, the Q50 2.0t PURE and Q50 2.0t PURE AWD. It continues to be powered by a 2.0-liter turbocharged 4-cylinder engine. The INFINITI Q50 3.0t is again available in a choice of 300-horsepower or 400-horsepower rate 3.0-liter twin-turbocharged V6 engines. It is also offered in LUXE, SPORT and RED SPORT 400 grade levels and in both rear-wheel and all-wheel drive. For 2019, the 3.0t SPORT now comes standard with the previously optional Essential, Performance, ProASSIST and Sensory Package content.

A choice of two exterior designs
With the 2018 Q50 redesign, INFINITI designers seized the opportunity to tailor different designs
according to the attributes and character of the models within the range – coinciding with the introduction of a new grade structure – PURE, LUXE, SPORT and RED SPORT 400. Each of the four model grades offers more of their own look and character.
The 3.0t SPORT grade features a performance-focused exterior design, while further enhancements and the most powerful engine appear exclusively in the RED SPORT 400, which lets drivers express themselves with a more assertive design that clearly conveys the car's performance potential.
All grades are marked by INFINITI's signature double-arch grille, which creates a strong first impression. The grille's three-dimensional, textural quality offers deep detailing of the waved mesh-pattern surface and chrome surround. Rising from the double-arch grille is a smooth and commanding character line, which flows energetically through the side of the body like a wave, creating a highly fluid profile – a trademark INFINITI look.
The Q50's signature LED headlamps enhance INFINITI's trademark human-eye aspect, while slim combination LED rear lamps, derived from the Q60 sports coupe, create a delicate appearance with a sharp light signature.
The front of the Q50 for 3.0t SPORT and RED SPORT 400 grades include a more angular front bumper and wider, lower air intakes (versus non-Sport models) – adding greater visual potency. Inspired by INFINITI's zero-lift approach to aerodynamic efficiency, the Q50 boasts a prominent airfoil at the base of the front bumper.
The rear of the 3.0t SPORT and RED SPORT 400 places a strong focus on the twin exhausts and rear diffuser with a two-tone paint finish – the body color is accompanied by dark metallic trim around the base of the rear bumper. RED SPORT 400 models come equipped with unique 19-inch wheels, contributing to a more aggressive stance, while also improving handling and traction under cornering and hard acceleration. The aluminum alloy wheels fitted to RED SPORT 400 models also convey a more technical aspect in their design with sharper, thinner spokes than those of the SPORT model grade.
As in previous years, the Q50's lean, robust body sides are designed to anchor the performance stance with a strong, solid bone-and-arched roofline that flows to the crescent C-pillars. In the rear, the side character lines smoothly merge with the shape of the rear LED combination lights. The familiar rear double-arch trunk line completes the strong, unforgettable view from behind.
Heated outside mirrors with integrated LED turn signals are standard, while a power sliding and tilting glass moonroof is standard on all models except the Q50 2.0t PURE. The Q50 RED SPORT 400 includes red "S" badging, door mirrors finished in high-gloss black paint, red-painted sport brake calipers and unique exhaust tips, helping assert the car's performance credentials and adding to its aggressive, confident aura.
Other exterior details include wide door architecture with narrow, roll-formed A- and B-pillar sashes that provide easy ingress and egress, as well as an open cabin environment. The body design also offers excellent airflow over both the upper and lower body portions, resulting in a coefficient of drag as low as 0.26 (varies by grade level and drive configuration). The Q50 also features zero front and rear lift.
The color palette has been specially selected to accent the Q50's contours and sculpted surfaces and includes a range of 10 colors: Midnight Black, Liquid Platinum, Graphite Shadow, Black Obsidian, Dynamic Sunstone Red, Majestic White, Pure White, Hagane Blue, Iridium Blue and Mocha Almond.
Finely crafted, connected cabin
Inside the 2019 Q50 features a high level of artistry and quality throughout the high-tech cabin, providing a comfortable and connected space. Each grade level is differentiated with its own unique interior character.
High levels of craftsmanship are central to the interior design. In particular, high quality materials surround the instrument panel and are finished with double stitching, while INFINITI designers have curated and crafted available wood trims for the dashboard. These trims have been treated in such a way as to retain the fundamental character and feeling of the wood and its grain – the result is more authentic in appearance than traditional high gloss, wooden veneers.
INFINITI designers have also incorporated the performance-inspired ethos of the Q50 inside the cabin, derived from the Q60 sports coupe. The steering wheel features molded positions for the driver's thumbs and affords intuitive fingertip access to reshaped steering wheel-mounted gear-shifter paddles. A performance-oriented leather-wrapped shift knob – like the instrument panel, also bearing double-stitched seams – is surrounded by chrome trim and features an inlaid INFINITI logo.
The 2019 Q50 interior features INFINITI's hallmark spinal support seats that were carefully engineered to provide a consistent level of support and minimize pressure on lower and upper back muscles. Both the front and rear seats help distribute body pressure across a wider range of the upper seating surface. The roomy interior space offers ample front and rear headroom, ample rear knee room enhanced by the thin front seatback design, and wide-range front seat slide and lift adjustability.
The Q50's instrument panel honors INFINITI's double-wave design tradition, with an asymmetrical flow from the top of the center cluster to the wide center console. Access to all key operations and controls – including use of hard switches, touch panels, INFINITI Controller and INFINITI Drive Mode Selector – is designed so that the driver does not need to change driving posture.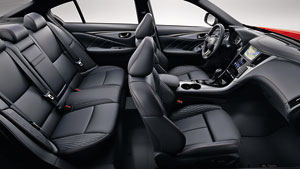 At the heart of the center console is INFINITI's InTouch™ Services, bringing the future of in-car connectivity to the interior of the Q50. Unlike conventional interfaces, the Q50 has two touch-capacitive color screens (LCD/VGA 8-inch upper and 7-inch lower). The system is designed to effortlessly synchronize car and driver – content and functions directed to the upper screen include the most frequently viewed applications, such as navigation, while other content is directed to the lower display screen for easy access.
InTouch™ allows occupants to personalize the interior environment of the Q50 according to their preferences and can store profiles for multiple drivers, identified by their I-Key (Intelligent Key). This includes an easy entry and exit assist system. Based on the profile detected on the I-Key, the Q50 moves the driver's seat to the most rearward position and the steering wheel up and out of the way for comfortable ingress or egress, before automatically returning both to the custom memory setting.
The system also includes SiriusXM® Travel Link with access to weather, fuel prices, stocks, sports and movie times (SiriusXM® subscription required, sold separately).
The Q50 offers an available 16-speaker, Bose® Performance Series sound system. Featuring advanced staging technology, the signal processing algorithm designed especially for this system delivers a precise, rich and nuanced acoustic experience for driver and passengers. Bose®'s CenterPoint 2.0 software enables listeners to enjoy a surround-sound experience from any stereo source. It has been specifically engineered to meet the unique demands of reproducing surround sound in the sedan. SiriusXM® Satellite Radio (SiriusXM® subscription required, sold separately) and High Definition radio are standard.
Other features include Dual-Zone Automatic Temperature Control, Bluetooth® Hands-free Phone System, RearView Monitor and available Advanced Climate Control System with Plasmacluster® air purifier.
The INFINITI Q50 features a choice of interior fabrics and colors, including available leather-appointed seating surfaces. Three interior colors are offered: Wheat, Graphite and Stone. Finishing off the elegant interior is a combination of Kacchu aluminum inspired by traditional Samurai armaments and genuine maple wood trim, which is representative of the 16th century Urushi painting technique.
The RED SPORT 400 is further differentiated with semi-aniline quilted leather-appointed seats, red stitching throughout the cabin and quilted side inserts on the seats, as well as sporty, yet simple, dashboard dials with dark chrome finish. The adoption of more technical materials accentuate the car's performance potential, such as aluminum with patterned surface trim on the dashboard, matte dark chrome on the doors and a black headliner for a more focused and cocooned interior. For 2019, Gallery White semi-aniline leather appointed seats are available on RED SPORT 400, which are enhanced with red contrast stitching.
Effective luggage space measures 13.2 cubic feet with the 2.0-liter 4-cylinder, and 13.5 cubic feet with the 3.0-liter V6.
The 2019 Q50 builds on the long list of safety, security and driving aid technologies with the addition of standard Forward Emergency Braking and Predictive Forward Collision Warning. Among the other available systems are Around View® Monitor with Moving Object Detection, Intelligent Cruise Control with Full Speed Range, Distance Control Assist, Blind Spot Warning, Blind Spot Intervention®, Backup Collision Intervention®, Lane Departure Warning, Lane Departure Prevention with Active Lane Control™, Adaptive Front lighting System and High Beam Assist technology.
Responsive performance – served three ways
Waiting behind the Q50's signature double-arch grille and wide hood is a choice of three advanced INFINITI powertrains. Leading the suite of powerful options is the exclusive VR-series 3.0-liter V6 twin-turbo engine. It is available in either 400 horsepower or 300 horsepower and was developed to provide an ideal mix of drivability, efficiency and performance.
The VR engine adopts a series of innovative technologies to deliver an engaging driving experience, including a direct-injection gasoline fueling system. The high-pressure direct-injection gasoline system allows for more precise injection of fuel into the combustion chamber, delivering the exact amount required for smooth engine acceleration, depending on throttle position and engine speed. This system makes the VR V6 the cleanest and most fuel-efficient engine of its type that INFINITI has ever offered.
The engine also features lightweight aluminum construction and low mechanical friction – providing smooth, durable and highly responsive performance. Chief among the engine's weight-saving elements is the adoption of spray bore coating for the engine block and integrated exhaust manifold for cylinder heads. Not only does this make the engine lighter, but this also aids cooling as heat can dissipate more effectively.
One of the engine's many other significant features is the adoption of an integrated exhaust manifold, built into the cylinder head, which positions the catalytic converter closer to the exhaust point. This results in a shorter flow path for the hot exhaust gases, allowing the catalytic converter to heat up almost instantly – twice as fast as previous V6 engines – improving response, while also reducing emissions from a cold start. Moving the catalytic converter closer to the exhaust point also saves weight by making the engine more compact than before.
The VR-series' power delivery is enhanced through an advanced twin-turbo system, which enables smooth and immediate responses under acceleration, while aiding efficiency. An optimized turbine blade design helps the engine generate greater overall performance, with faster turbine revolution speeds allowing for an immediate response from the twin-turbo system.
In addition, the engine features a turbine speed sensor, which allows for the twin-turbo system to perform at up to 220,000 rpm – at steady condition and 240,000 rpm at transient condition – higher than ever before for a V6 power unit. With greater capacity for faster revolutions, the twin turbochargers boost the higher-powered version of the engine to deliver higher power and torque. A turbo speed sensor on the 400 horsepower version allows for up to 30 percent more power output. Boost pressure is 14.7 psi, versus 9.5 psi for the 300-horsepower version.
The engine also features a water-cooled intercooler system to further improve performance and efficiency. The system rapidly cools air as it enters the twin-turbo system, reducing turbo lag and allowing for more immediate acceleration. The secondary result is a cooling system that is more compact – meaning a shorter flow path for air entering the turbocharger to enable quicker engine response. An electronic wastegate actuator allows closer control of exhaust gas flow away from the turbocharger, restricting the amount of exhaust gas flowing through the unit to improve overall engine efficiency.
The high-output version, which is standard in the range-topping Q50 RED SPORT 400, delivers 400 horsepower at 6,400 rpm, the most standard horsepower for any non-specialty model. Torque is rated at 350 lb-ft at 1,600-5,200 rpm.
The standard output version, offered in the Q50 3.0t LUXE and Q50 3.0t SPORT models, produces 300 horsepower at 6,400 rpm and 295 lb-ft torque at 1,600-5,200 rpm.
Complementing the 3.0-liter V6 is a 2.0-liter four-cylinder turbocharged unit, rated at 208 horsepower at 5,500 rpm, with peak torque of 258 lb-ft available from 1,500 rpm. This engine, like the 3.0-liter V6, is engineered to blend responsive performance with enhanced fuel efficiency.
The 2.0-liter engine features a lightweight aluminum block and cylinder head with chain-driven dual-overhead camshafts, die-cast aluminum cylinder crankcase and optimized crank assembly promote further weight savings, reduce friction and improve efficiency. An idle stop-start system is standard with the 2.0-liter turbocharged engine.
All 2019 Q50 powertrains are matched to an advanced seven-speed electronically controlled automatic transmission with manual shift mode and available steering wheel-mounted magnesium paddle shifters on Q50 3.0t SPORT and RED SPORT 400 models. The gearbox features logic and hardware designed to handle the power output of the VR-series engines. Dual transmission coolers are utilized to better diffuse heat.
In addition, the Q50's Adaptive Shift Control enhances gear selection by using a lateral acceleration sensor to detect changes in the road, such as hills and turns. Sport Mode allows the driver to select a more aggressive shift pattern with automatic up- and down-shifting at higher rpm. The Sport Mode allows a more aggressive shift pattern and higher rpm downshifting. Manual Mode is also standard, with paddle shifters added for Q50 3.0t SPORT (optional) and RED SPORT 400 (standard) grades. The combined effect is for any driver to enjoy quick, smooth shifts and gear choices that are appropriate to both the road and the desired driving style.
The 2019 Q50 can be configured with one of two driveline options – rear-wheel drive or Intelligent All-Wheel Drive. Both are available with any of the three engines.
Next-gen Direct Adaptive Steering and Dynamic Digital Suspension
The INFINITI Q50 also stands out from the competition with its second-generation INFINITI Direct Adaptive Steering, which is a precursor to future steering systems that will form a key building block on the way to achieving fully autonomous driving.
The Direct Adaptive Steering's standard steering mode offers advanced levels of steering feel and feedback – more akin to that of a conventional steering system. The system offers even more options to personalize and tailor the steering system's levels of response and feel to suit the driver's preferences (versus the previous generation).
This system also actively adjusts the steering ratio and effort according to vehicle speed and scene. In slow-moving situations, such as city driving or parking, the system is tuned for ease of maneuverability. In order to further enhance the steering feel in sporty driving conditions, the steering effort gradually saturates with high lateral G-force and acceleration in line with the overall vehicle behavior.
Direct Adaptive Steering is able to transmit the driver's input to the wheels faster than a mechanical system while requiring fewer steering corrections, and it is able to make 1,000 steering adjustments per second. The system enhances the steering feel by quickly and intelligently communicating to the driver feedback about road surface and chassis behavior. This gives the driver a secure and confident feeling at the wheel, free from unnecessary steering kickbacks or vibrations. The elimination of unwanted feedback has the further benefit of reducing driver fatigue.
Standard on Q50 models equipped with the 3.0-liter V6 twin-turbo engine is a refined Rack Electronic Power Steering design. The expansive selection of steering modes within Direct Adaptive Steering can be accessed and tuned through the Drive Mode Selector. Direct Adaptive Steering works with Active Lane Control to maintain lane positioning against crosswinds and uneven road surfaces.
INFINITI Q50 2.0-liter-equipped models feature a standard speed-sensitive hydraulic electronic rack-and-pinion power steering system. This system increases assistance at low speeds and reduces assistance for enhanced feel and response at higher speeds.
In all modes, available Dynamic Digital Suspension also constantly adjusts the shock absorber valve within a wide range of damping force to control body motion when cornering. It monitors body roll, pitch and bounce rate to restrain body motion for a comfortable, confident and insulated ride in all conditions, ensuring that bumps and undulating road conditions are absorbed to maintain flat body posture.
Every Q50 features a 4-wheel independent suspension that provides an improved balance between confident handling and a comfortable ride. The front suspension is a double-wishbone design, while the rear suspension utilizes a multi-link design with coil springs and Dual Flow Path® shock absorbers (non-SPORT models). Extensive use of aluminum components for the suspension keeps weight down. The suspension also offers front and rear stabilizer bars.
Braking is provided by a 4-wheel power-assisted vented disc brake system with 4-wheel Anti-lock Braking System and Electronic Brake force Distribution and Brake Assist. Sport Brakes with upgraded rotors, 4-piston front calipers and 2-piston rear calipers are standard on Q50 3.0t SPORT and Q50 RED SPORT 400, with red painted calipers on the RED SPORT 400.
A range of wheel and tire combinations are available, starting with the Q50 2.0t PURE's 17x7.5-inch split 5-spoke machine surfaced aluminum-alloy, wheels with 225/55R17 all-season run-flat tires. In addition, 18x7.5-inch aluminum-alloy sport wheels, machine finished with 225/50R18 all-season run-flat tires are offered on Q50 3.0t LUXE models.
Standard on the Q50 3.0t SPORT are 19x8.5-inch aluminum-alloy sport wheels with 245/40R19 all-season or summer run-flat tires. The Q50 RED SPORT 400 AWD comes equipped with 19x9-inch aluminum-alloy wheels with 245/40R19 all-season run-flat tires. And finally, the Q50 RED SPORT 400 RWD comes with staggered aluminum-alloy wheels with 245/40R19 front, 265/35R19 rear run-flat summer tires.
A range of models and packages
The 2019 Q50 offers a wide range of available models and equipment packages. The Q50 2.0t PURE's long list of standard features includes 8-way power front seats, Dual-Zone Automatic Temperature Control, INFINITI InTouch™ and 17-inch aluminum-alloy wheels.
Q50 3.0t SPORT models add a range of features such as sports front fascia and sport-type leather-appointed seats and 19-inch aluminum-alloy wheels with 245/40R19 all-season performance tires (summer tires on rear-wheel drive models).
For 2019, Q50 3.0t SPORT models also add a long list of standard content previously available with option packages. The list includes INFINITI InTouch™ with Navigation and INFINITI InTouch Services, Bose® Performance Series sound system, heated front seats and steering wheel, Blind Spot Warning, Around View® Monitor with Moving Object Detection, Sport brakes with silver-painted calipers, steering wheel-mounted paddle shifters, Dynamic Digital Suspension and Advanced Climate Control System.
The ultra performance 2019 Q50 RED SPORT 400 comes complete with quilted semi-aniline leather-appointed seats, aluminum-accented pedals, dark chrome interior trim, dark metallic dynamic tactile paddle shifters, staggered 19-inch wheels and tires (RWD), exclusive exhaust tips, sport brakes with red painted calipers, a full range of safety and driver aid technologies and, of course, 400 horsepower.
A number of special option packages are also offered, allowing drivers to customize the Q50 to their exact specifications. Packages include Sensory and ProACTIVE.
# # #